Architects

Quality. Safety. Economy. Choice
NVELOPE rainscreen systems understand and empathise with the modern architect. Our technical department is always here to help. Your quality guarantee – our cladding systems and products carry british board of agrément (BBA) certification. Easy to specify – our rainscreen cladding systems are available as NBS plus specification clauses and with autoCAD files. Optimised system and rail layouts with specialist engineered solutions. Project vision and transparency provided through our support service (static calculations, thermal values and M2 budget pricing). We are versed in supporting most key façade manufacturers' materials. We always aim to hold extensive stocks of our brackets, rails and accessories – which means stock allocation is always available to get a project underway.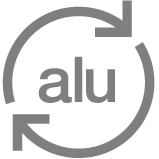 Aluminium

Our sustainable brackets
NVELOPE brackets (and profiles) are manufactured in the UK to EN7559 production and EN12020-2 alloy and quality standards. All of our brackets are produced from sustainable aluminium and are fully traceable. Aluminium is the second most widely used metal after iron. This is due to its unique combination of features. The low weight and high strength, malleability, simplicity of fabrication, corrosion resistance and good ability to conduct heat and electricity are some of the most important characteristics of Aluminium. Furthermore, Aluminium is very easy to recycle, needing only 5% of the energy required for primary production.
Strength
Aluminium alloys have tensile strengths between 70 and 700/mm2. At low temperatures the strength of aluminium increases. At higher temperatures (constantly over 100°c) this strength decreases.
Weight
Aluminium has a low density approximately one third of steel. It has high strength, malleability, and simplicity of fabrication. It's corrosion resistance and good heat conduction are some of it's most important characteristics.
Linear expansion
Compared with other metals aluminium has a relatively large coefficient of linear expansion. In some fabrications it is necessary to take account of this.
Conductivity
Aluminium is an excellent conductor of heat and electricity. An aluminium cable weighs approximately half as much as a copper cable with the same conductive capacity.
Malleability
Good malleability, which is necessary for aluminium extruding, allows bending and other forming operations in both hot and cold conditions.
Fabrication
Aluminium is simple to fabricate with most punching and machining techniques. Furthermore there are advanced bonding and welding methods now available.
Reflectivity
Aluminium has good reflectivity over a wide range of wavelengths.
Recyclability
Aluminium is very easy to recycle, needing only 5% of the energy required for primary production.
Non-toxic
Aluminium is nature's most common metal with no less than 8% of the earth's crust consisting of many different forms of aluminium compounds, which also naturally occur in our food.
Corrosion
As with most other metals, aluminium reacts with the oxygen in the air. The oxide layer, which is created on the surface of the material, is very thin and compact and provides a natural high level of corrosion protection. If this oxide layer is damaged it spontaneously reforms itself.
Aluminium has a good hardness and endurance in neutral and slightly acid surroundings. However, in highly acidic surroundings corrosion can quickly develop.
The corrosion of metal in the atmosphere depends on the time of exposure and the composition of the electrolyte on the surface. All metals are at risk of corrosion when the relative surface moisture exceeds 80% and the temperature exceeds 0°C at the same time. In a mainland atmosphere and in moderate sulphurous atmosphere the durability of aluminium is excellent. In strong sulphurous atmospheres it is possible that small level of corrosion may appear on the surface. But generally the durability of Aluminium is better than that of either carbon or galvanised steel. The occurrence of salts, especially chlorides, in the atmosphere only slightly reduces this durability by comparison with other metals.
Mostly the maximum depth of small pits is only a fraction of the thickness of the material. So, the characteristics of durability are nearly constant. Those of carbon steel are totally different.
Sustainability - Our green credentials

Bridging the thermal gap
The 2010 revision to part 'L' places specific emphasis on the performance of the building details and the additional losses through linear thermal bridging.
Thermal bridges cause increased flow of heat and should be taken into consideration when designing a façade/façade system. Since the fixing of ventilated cladding must go through the thermal insulation into the substrate it cannot be avoided.
Thermal decoupling of the substructure from the ventilated façade is achieved through thermal separation layers.
NVELOPE NV and NH brackets are pre-assembled with thermal isolators – isolators help reduce thermal bridging – in addition NVELOPE isolators prevent a chemical reaction occurring between aluminium brackets and lime in concrete frames.
The thermal value of NVELOPE brackets / isolators has been calculated – go to project builder
The additional heat loss for each M2 is known as the PSI value and this additional heat loss is dependant upon the type of detail, the thermal conductivity of the cladding materials and the quality of the detail design and installation.
Be an NVELOPE Scout

Your vision realised
We generally understand the requirements of our clients - the Architect and the Façade installer. We aim to enhance our proposition with initiatives and solutions that save our clients time, hassle and money. As a solutions Company, we are always interested in your ideas and visions. Tell us what you think and what you need, because we take delight in fresh external inspiration. Simply complete the contact form and the transfer process is complete. Many thanks for your suggestions - If your idea turn out to be feasible we will be in touch.